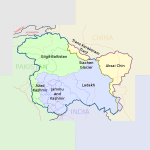 Location & Climate
Kashmir, officially referred to as Jammu and Kashmir (J&K), is approximately an 86,000-square-mile region cradled in the lap of the Great Himalayas, so breath-taking in physical beauty that Mughal emperors in the 16th and 17th century considered it to be an earthly paradise.
Kashmir lies in the northern part of the Indian sub-continent. It has a moderate climate, which is largely defined by its geographic location, with the towering Karakoram Range in the north, Pir Panjal Range in the south and west, and Zanskar Range in the east. It can be generally described as cool in the spring and autumn, mild in the summer, and cold in the winter.
Kashmir has a different climate for every region owing to the great variation of the level of the altitude. The climate of Kashmir can be summed up from the quotation of famous British traveler Sir Walter Roper Lawrence in his book the Valley of Kashmir he wrote:
"In latitude, Kashmir corresponds with Peshawar, Baghdad, and Damascus in Asia, with Fez in Morocco and South Carolina in America, but it presents none of the characteristics of those countries. People have linked the climate of Kashmir to that of Switzerland until the end of May, and of Southern France in July and August. But it is impossible to speak of Kashmir as possessing anyone climate or group of characteristics. Every hundred feet of elevation brings some new phase of climate and of vegetation."
People, Art & Culture
The vibrant culture and tradition of Kashmir is represented by its prepossessing people, who are widely considered to be humble and very hospitable. Their native tongue, Kashmiri, is pivotal to their cultural identity.
The culture in Kashmir is heavily influenced by Persian and Central Asian cultures. Crafts and art entered the valley of Kashmir when a famous Sufi saint named Shah-e-Hamdan came with a group of artisans. Other than preaching locals the lessons of spirituality, religion, and basic human values, he trained locals in various arts and crafts. His Irani (Hamdan) artisans themselves spent time with the locals and let them practice crafts from Iran to make them specialists in the same. Carpet Making, Papier Mache, wood carving, shawl making, and others were some crafts that were taught to locals. This craft-making helped grow the local economy and made Kashmiris independent. Even if times were hard for the locals, these skills never forced them to beg.
Handicrafts are the traditional occupation of the people of Kashmir and there are many buildings of significant architectural heritage. Kashmiri carpets, Pashmina (aka Cashmere) & Shahtoosh shawls, and other delicate and intricate tapestry have earned the region's craftsmen international renown. Wood carvings and ceilings are coveted for their aesthetic appeal while embroidery and papier mâché are internationally famed. Papier mâché best reflects the cultural whirl of influences of the Central Asian designs and motifs. Exquisitely decorated traditional small wooden boats known as Shikaras and house-boats on the world famous Dal Lake are also celebrated cultural icons. The breathtaking panorama of Kashmir is the inspiration for many local artisans.
#cashmere #pashmina #shahtoosh #art #crafts #woodcarving #rugs #shawls #handloom #papermache #handicrafts #crewel #curtains #carpets
Kashmir
Cuisine (Food & Drinks)
Kashmiris are very passionate about food. The cuisines of Kashmir were greatly influenced by the cultures which arrived with the invasion of Kashmir from central Asia, Persia and Afghanistan. This sphere of influence reshaped the art, custom, rituals, belief and mainly the food-culture of Kashmir from time to time. Rice is the staple food of Kashmiris. Meat, along with rice, is the most popular food item in Kashmir.
Kashmiris consume meat voraciously. The ultimate formal banquet (aka Wazwan) is a royal cuisine comprising of approximately thirty-six dishes of mutton cooked overnight under the supervision of a master-chef called "wouste waze". Wazwan is usually cooked and served to guests on special occasions and family gatherings such as marriage parties etc. At these feasts, the guests are seated in groups of four, sharing their meal from a single large metal plate called Tramie (or traem).
Another must try age-old lamb preparation welcomed during winters is the Kashmiri Harissa - a rich, indulgent traditional mutton dish of Kashmir flavoured with spices, aromatics, rice and crispy fried onions. Harissa is served hot with flat bread or naan, with tempered onion rings and optional kebabs. Traditionally, the harissa is cooked the night before and eaten for breakfast the next morning.
The tongue pleasing Kashmiri barbecue, better known as Tujj'e rules the hearts of all foodies in Kashmir. Tujj'e are small cubes of mutton held through iron/steel rods (aka Seekh) over an iron grill and roasted over red heated ember. Once ready, it's served along with varieties of chutnee & pickles and special Kashmiri bread called Lawasa. Be it harsh wintry cold or hot scorching summer, the mouth-watering tujj'e find a fan-base during all seasons of the year. #tujje
The Kashmir Valley is noted for its bakery tradition. Bakers sell various kinds of breads with golden brown crusts topped with sesame and poppy seeds. Tsot and tsochvor are small round breads topped with poppy and sesame seeds. Kashmiri bakerkhani has a special place in Kashmiri cuisine. It is similar to a round naan in appearance, but crisp and layered, and sprinkled with sesame seeds. It is typically consumed hot during breakfast.
Tea is drunk in copious amounts. Nun Chai (salty tea) and Kehwa (saffron tea with almonds) are particularly popular. Kashmir is also famous for saffron, apple and dry fruits like walnuts, almonds etc.
#wazwan #harissa #barbecue #tujje #nunchai #saffron #almonds #kehwa
Tourism
Popularly known as "Paradise on Earth" and situated in the heart of Himalayas, Kashmir is blessed with its rich flora and fauna, wildlife sanctuaries, snow clad mountains, high altitude lakes, cultural richness and world famous pilgrimage destinations etc. The valley is a part of the state of J&K, which comprises of three distinct regions viz. Jammu, Kashmir and Ladakh.
In Kashmir, one can never run out of scenic views and beautiful locations to explore. The Himalayas are famous for their natural beauty and gentleness. The most stunning mountain peaks, glaciers, lakes, rivers, woods, green wilderness, and high pine trees are all around Kashmir. Sports like skiing, golfing, trekking, river rafting, paragliding and camping are all about the journey to this beautiful valley of Kashmir. Some of the state's notable attractions are Dal Lake, Nigeen Lake, Mughal Gardens, Cheshmashahi, Dachigam National Park, Gulmarg, Sonamarg, Pahalgam, Yusmarg, Badamwari etc. In their memories, one will always remember the incomparable beauty and attractiveness of the state and the amicability of its people.
#dallake #boulevard #tulips #cheshmashahi #shalimar #mughalgardens #dachigam #pahalgam #gulmarg #sonamarg #yusmarg #srinagar #kashmir
Kashmir Photo Gallery

Perched securely among the lofty snow-sprinkled mighty Himalayan mountain chain, the emerald blue skies peeping through the chinks of the clouds, the tall chinar trees swaying to the rhythm of the gusts of wind, all condense into a kindly smile, forming the lovely Kashmir Valley, also known as the "Vale of Kashmir".
The Irish poet Thomas Moore's 1817 romantic poem 'Lalla Rookh' is credited with having made Kashmir (spelt Cashmere in the poem) "a household term in Anglophone societies", conveying the idea that it was kind of a paradise.
Attractions
The most stunning mountain peaks, glaciers, lakes, rivers, woods, green wilderness, and high pine trees are all around Kashmir.
Some of the state's notable attractions are the Dal Lake, Mughal Gardens, Gulmarg, Sonamarg, Pahalgam, Yusmarg, etc. to name a few. In their memories, one will always remember the incomparable beauty and attractiveness of the state and the amicability of its people.
Beauty of Kashmir can't be compared by the whole world.
With the sound of gushing waters, aroma of pine trees, the vibrancy of saffron, rise of azaan and an unfathomable calling, Kashmir surprises everyone.
Kashmir has always been more than a mere place. It has the quality of an experience, or a state of mind, or perhaps an ideal.
Gar firdaus bar roo e zameen ast, Hameen ast'o hameen ast'o hameen ast. If there is a heaven on earth, it's here, it's here, it's here.
Kashmir is the delicate reminder of the fact that poetry not always need pages and words. When the pages are torn and ink is faded, the living poetry can be felt through heartbeats and emotions.
Blog
"Pale hands I loved beside the Shalimar, Where are you now? Who lies beneath your spell? I would have rather felt you round my throat, Crushing out life, than waving me farewell!"
"My Shangri-La beneath the summer moon, I will return again! Sure as the dust that floats high in June, when movin' through Kashmir."
This essay talks about the winter traditions in Kashmir. It highlights the preparations and arrangements made by locals to combat this bone-chilling season.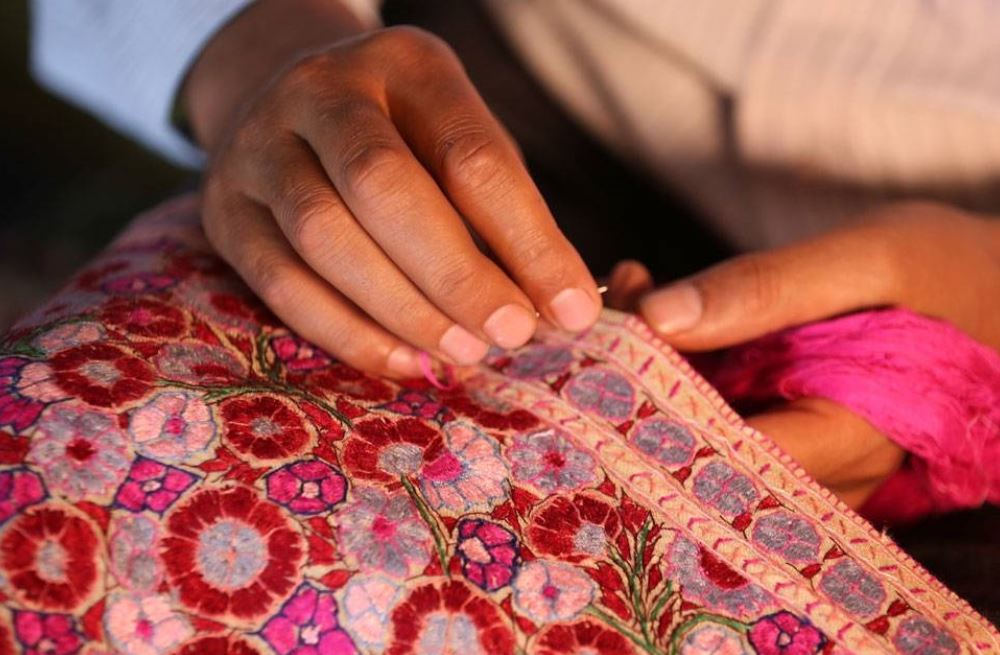 Pashmina is the exquisite art of hand-weaving finest cashmere wool into luxurious pashmina shawls, scarves and accessories.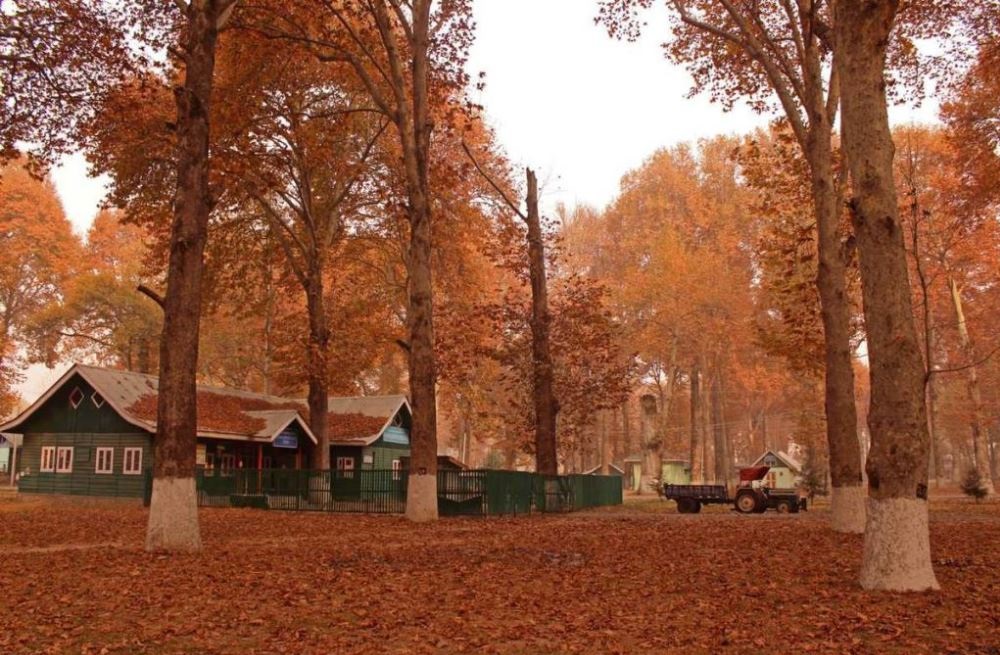 The season has its charm of changing the colours of leaves on the trees. Its magical to see the valley bathe in hues of red, orange and gold.